The AG600 Kunlong large amphibious plane in maiden China flight
Share
publisher

Nemo
Issue Time

2018/02/05
The plane, roughly the size of a Boeing 737 but with four turboprop engines, took off from Zhuhai airport in the southern province of Guangdong.
The plane can carry 50 people and can stay airborne for 12 hours.
It has firefighting andmarine rescue duties but also military applications, which could be put to usein the disputed South China Sea region.
The AG600, codenamed Kunlong, can reach the southernmost edge of China's territorial claims in thearea.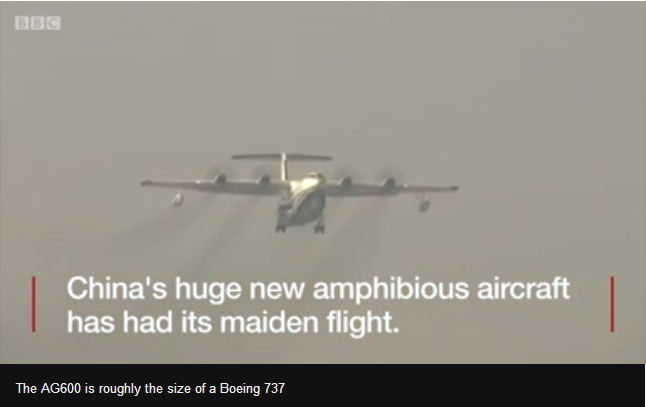 The take-off of theflight was carried live on state television and its return was greeted byflag-waving crowds and military music.
The plane has beeneight years in development, has a maximum take-off weight of 53.5 tonnes and awingspan of 38.8m(127ft).
There are 17 ordersalready from within China.
China's policy on the South China Seais hotly contested by a number of neighbouring countries and a UN-backed tribunal last year dismissedBeijing's claims to much of the region.
Though sizeable, theAG600 is dwarfed by the famous flying boat of billionaire Howard Hughes.
You may find us at below sites:
Secure our official site at: www.wzmagicolor.com
Okeykids on Facebook: https://www.facebook.com/WenzhouMagicolor/
Okeykids on Twitter: https://twitter.com/Taishi201609141
Okeykids on Youtube: https://www.youtube.com/channel/UC70GcWygKTwhTk3Y54zyuTQ/featured
Wenzhou Magicolor Co.Ltd specialize in wooden toys since 2002, there are over 500 different wooden kitchen toy,wooden doll house,wooden small educational toys on catalogue.
Sales department,manufacture department, design department,QC department offer best service for customers.
Main customers from United Kingdom, France, Germany and USA, so every item owns EN 71 & ASTM certificate. Besides,we established long-term business relationship with SIDJ,Disney,ALDI and so on.
Wenzhou Magicolor Co.Ltd want to be No.1 on wooden toys'field in next decade.
Mobile / Whats App: 0086 13857735317
Mobile: 0086 13706665417(Porper) / 0086 13857735317(Eva)
Email: toy@evatoys.com, toy@okeykids.com
Tel: 0086 577 28902891