What the world's largest shopping day says about China
I still remember growing up in communistChina in the 1970s, when my mother and neighbours would use their rationtickets to buy meat at a state-run store.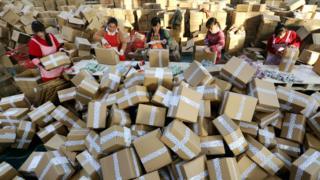 Very little thought went into shopping becausethere was not much to buy. People simply bought what little was available.
Even in the 1980s, shopping in Beijing was littlebetter.
Back then, shopping was just something youhad to do to get what you needed. It certainly wasn't the big extravaganza ithas become with the popularity of Singles Day.
§ What is China's Singles Day?
§ How China's Alibaba wants to change shopping
§ China online shopping: Dishonest websites face fines
Now in its ninth year, the day isofficially called the 11.11 Global Shopping Festival. 11.11 stands for the 11November, when it is held. The two numbers were chosen to symbolize the wishesof single people to be in a relationship, as two elevens next to one anotherappear like two couples.
It was originally a non-commercial festivalstarted by male college students who didn't have a girlfriend. They created aday to get together to celebrate bachelorhood.
But the Chinese retailer Alibaba caught onto it and has turned it into the largest online shopping day in the world.Alibaba says more than one million retailers worldwide took part this year,including USdepartment store Macy's.
Alibaba says this year's sales amounted to$25.3bn (£19bn), $7.5bn more than in 2016. Only half way into this year'sSingles Day, sales had already surpassed last year's total.
As I digest these figures, my mind flashesback to childhood images of everyone wearing the same style of button-downshirts and elastic- waisted baggy trousers - so-called Mao suits. We were luckyif we got a set of new clothes once a year.
Relatives and friends have proved to me howwidespread Singles Day has become. One of my cousins buys six months' worth ofhousehold supplies on that day. A friend spends as much as $500. Some peoplespend much more. Even my uncle in his seventies has jumped on the bandwagonthis year, buying underwear and snacks online.
So what happened to bring about thisdramatic change in China?
I attribute it to Chinese people's strongsense of curiosity and willingness to try new things. After all, they had fewchoices in previous decades.
But also - the love of a good bargain!
Discounts can be 30% or more, but there's alimited supply on the best buys, so shoppers stay up past midnight on theircomputers to fight for the good deals.
Shoppers can use apps to virtually try onclothes before they buy them. Ahead of Singles Day there are a lot of events,including a four-hour fashion show. Viewers on their mobile phone canimmediately make online purchases of the clothes they see the models wearing.Local shops can deliver to their door.
But whatever happened to the traditionalChinese values I was raised on - thriftiness, frugality, and getting by withwhat you have?
They have been shoved aside. At least bysome well-to-do and increasingly wasteful middle-class urban dwellers. Somepeople have become so hooked on materialism that they have become credit cardslaves, owing huge debts.
Regardless, Singles Day is a wakeup callfor the rest of the world, especially companies wanting to sell to Chinesepeople. They've got to do things the Chinese way if they want to win them over.Chinais no longer just following, it is leading the world in e-commerce and consumerengagement.
At the stroke of midnight, when the world'sbiggest online shopping event came to an end, the staggering sales figure onAlibaba's website was a sign of just how much China has changed.
You may find us at below sites:
Secure our official site at: www.wzmagicolor.com
Okeykids on Facebook: https://www.facebook.com/WenzhouMagicolor/
Okeykids on Twitter: https://twitter.com/Taishi201609141
Okeykids on Youtube: https://www.youtube.com/channel/UC70GcWygKTwhTk3Y54zyuTQ/featured
Wenzhou Magicolor Co.Ltd specialize in wooden toys since 2002, there are over 500 different wooden kitchen toy,wooden doll house,wooden small educational toys on catalogue.
Sales department,manufacture department, design department,QC department offer best service for customers.
Main customers from United Kingdom, France, Germany and USA, so every item owns EN 71 & ASTM certificate. Besides,we established long-term business relationship with SIDJ,Disney,ALDI and so on.
Wenzhou Magicolor Co.Ltd want to be No.1 on wooden toys'field in next decade.
Mobile / Whats App: 0086 13857735317
Mobile: 0086 13706665417(Porper) / 0086 13857735317(Eva)
Email: toy@evatoys.com, toy@okeykids.com
Tel: 0086 577 28902891